In December 2014 I had a story in New Mexico Magazine about the Fredaissance in New Mexico, with a sidebar on how to tour the Harvey heritage spots in the state. Since the sidebar is a little tough to access online, here's an easier version, with all the links.
NM's Harvey Hot Spots
Since the late 1870s, there have been 15 different New Mexico cities and towns with Fred Harvey eateries, hotels, or newsstands. Many of the original buildings no longer exist—and in a few cases, like San Marcial, the towns themselves no longer exist. So you need to decide whether to visit only places where there is still something Fred to see, or do the entire circuit of original Harvey cities. The latter would be, in rough order of when they got Harvey outposts: Ratón, Las Vegas/Hot Springs, Lamy, Albuquerque, Wallace, San Marcial, Rincon, Deming, Las Vegas, Vaughn, Coolidge, Gallup, Las Cruces, Belén, and Santa Fe. That would be quite a drive.
The easiest and most accessible Harvey-themed trip is between Albuquerque and Las Vegas. Albuquerque was the Southwest's 20th-century center of the Harvey Company and the Santa Fe Railway, but lost its depot and Fred Harvey hotel buildings in 1972 and is still attempting to recover. The Albuquerque Museum has a small, permanent Harvey display—as part of its new "Only in Albuquerque" galleries—which includes artifact-stocked display cases from the Alvarado lunchroom and the Indian Building. There is also the ambitious and longawaited Wheels Transportation Museum project in the very cool old Albuquerque Rail Yards, which can be toured by appointment (505-243-6269); one day this could be the go-to trainiac and Fredhead spot in ABQ. Take a quick look at the Alvarado shaped downtown transportation center and the nearby Hotel Parq Central, wonderfully restored from the old Santa Fe Railway Hospital.
Many people, however, just start their Fred tour in Belén, 35 miles south of Albuquerque, which has the state's oldest and most charming Harvey House Museum in its lovingly restored depot.
And then head on to Santa Fe. While there, be sure to tour, dine at, or stay at La Fonda Hotel on the Plaza (which almost qualifies as a museum). And do not miss Setting the Standard: The Fred Harvey Company and Its Legacy, the new permanent exhibit at the New Mexico History Museum—which features amazing Harvey Company memorabilia. The big public opening was December 7th, and there will be many Harvey-related special events all through 2015.
From Santa Fe you'll be driving to Las Vegas, but call or e-mail ahead first. The front desk at the Historic Plaza Hotel (505-425- 3591) can help you arrange tours, some given by the new Las Vegas Harvey Girls, of the places you want to see: the restored Montezuma Hotel (now United World College); the ongoing restoration of the Castañeda Hotel (which is expected to reopen in 2016); and perhaps the Rough Rider Memorial Collection.
While in southern New Mexico, check out the Deming Luna Mimbres Museumand the Las Cruces Railroad Museum. Neither has huge Harvey holdings, but both have collections that would delight Fredheads. For more information about Fred Harvey history and culinary tourism, read my book Appetite for America—which has large appendices for car and train travel, Harvey recipes, and a complete listing of Harvey locations. Also see my Facebook author page and Harvey Girls Cookbook page. —S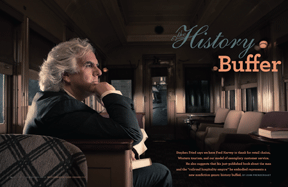 Black Bart and I love the train, of course, but I'd suggest doing these trips by car (while supporting the efforts of the Amtrak Southwest Chief Coalition to keep the train route alive and well)
This article is copyright © 2018