After my Parade cover story on America's Greatest Train Rides came out, both Parade.com and I received a lot of emails from readers upset that they wanted to take the ride from Chicago to LA that we made sound like so much fun–but were unable to book it for fares anywhere near like the ones we had printed. We published, and Amtrak confirmed before publication, $909 for a couple traveling in a private bedroom with "shoilet" (as Diane calls the shower/commode combo), and $944 for a family of four traveling in a "family bedroom" that sleeps four (but is shoilet-free.) When the article came out on March 28, many people tried to book the trip and were e-quoted prices often double that. They were not e-lated.
When asked, Amtrak released a statement saying "fares will vary by time of year, date of purchase and choice of sleeping accommodations. The article … used an off-peak travel season as a starting point." The truth is, we didn't consciously use the off-season–we just happened to write and edit the article during the off-season, so those were the fares coming up on Amtrak's web reservation service.
But the real answer to the fare question is much more complex. Since the Parade article came out just as we were about to take another ride on the Chief ourselves–for the One Nation Under Fred tour–I wasn't able to immediately look into this further. But now I have. I just had a long talk with Marc Magliari, Amtrak's Midwest Media Relations Manager (a good guy with a big voice with has helped us in the past).
And I can now explain the entire complicated situation to you–and help you book your trip the smartest and cheapest way possible.
First, I must confess I am something of an Amtrak.com geek. Because I ride the train from Philly to New York to teach at Columbia, and book online each week, I am very sensitive to every little change in fares on the Amtrak site. They don't always announce these ticket-tweaks, but you can figure them out–recently, for example, out of nowhere, the lowest price between NY and Philly dropped from $47 to $35–ostensibly because of increased competition from buses. Finding that fare isn't easy (and you can't use your AAA discount on it) but it is worth pursuing.
But, back to the Chief. It turns out that at any given time there are four different possible fares for a seat on the Chief between Chicago and LA, and five different fares for the bedroom-plus-shoilet accommodations–anywhere from $617 to $1393 (and, if you pay for the bedroom, you automatically get the cheapest seat fares–which is why they both go quickly.) These shift based on the time of year and the demand. At any time of year, your best chance of getting the cheapest far is to book a departure leaving on a Tuesday or Wednesday. But the times Amtrak considers the most "off-season"–and sets fares accordingly–are mid-September through mid-October and mid-January through early March. There are times near then when you can still get the lowest rates, but the closer you get to any holiday or the summer, the worst your chances. And, for many dates, the bedrooms sell out–and, trust me, you want your own shoilet. (Don't forget your shoiletries.)
Anyway, I hope this explains the wide variability in Southwest Chief fares. And if you were worried that the fare we printed would never be available again, don't fret–I just went up on the site, chose the most obscure date possible, and got those fares we printed. So they do exist. Whoo-whoo!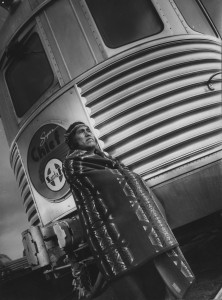 This article is copyright © 2018